Family story of a great grandfather of George Dunstin Pears
Warwick Dashwood Bussell
The Bussells of Devon (There were several Devon Bussell families..this is the story of one)
Updated 9th November 2015. [Added link to 1851 report of 'Breach of Promise Case'
Warwick Dashwood Bussell (b Dec 1824) was christened on 20th October 1825 at St David, Exeter, Devon and registered in Heavitree (the last executions of witches in England took place here in 1682), a district of Exeter in Devon, England. He was the third child of John Bussell (b~1782) and Christina Susanna Jacoba de Mey (born ~ 1801), a very well-to-do Devon family..
On 23rd December 1844, at just under 20 years of age, he enlisted as a gunner with the Royal Artillery at Westminster, London. His enlistment appears to have come about after a falling out with his father. The family name and social standing was later to be slighlty affected by having an 'enlistee' with the East India Company. However they were able to rely on the fact that he had enlisted without his father's consent and that there were letters from his captain saying that he had never forgotten his station as a gentleman. He was 5ft 9ins with blue eyes and brown hair. His trade was a clerk and he was received into service in August 1845 when he left for India attached to the 3rd Madras Light Cavalry stationed in Bangalore.. He was promoted to Bombardier in April 1853. In March 1854 he was promoted to Sergeant and at the same time appointed Acting Sergeant Major. Apart from minor operations against the southern Mahrattas between 1844 and 1855 and sending some detachments to join the Deccan force during the Mutiny of 1857 (the year of his marriage), the regiment did not see major action till the 1st world war when it was called the 28th Light Cavalry and then became the 7th Light Cavalry in the 2nd world war. He held various posts at various stations until December 1863 when he was appointed Sergeant Major in Bangalore. At his own request, after 21 years of service aged 40, he decided to leave the service with a pension under Indian Regulations. His termination papers on 28th November 1865 in Bangalore state that his conduct was exemplary and that he posessed one good conduct badge and was elegible for 4 others. He seems to have dodged every bullet because his discharge notes state that he was never wounded. He stated his intended retirement residence would be Coonoor in the Neilgherri (Nilgiri) hills.
On 10th Oct. 1857
Warwick Dashwood Bussell
married
Caroline Adelaide Jones.
He was 32 and Caroline was 21. Warwick & Caroline had twins in 1858 in Trichinopoly,
one boy and one girl (wonderful for naming!). The boy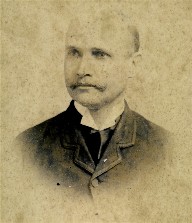 was named John Edward (John being the name of the father of Warwick (still in Devon) and Edward being the name of the father of Caroline, and the girl (our ancestor) Christina Esther (after Warwick's mother Christina and sister Esther who were still in Devon).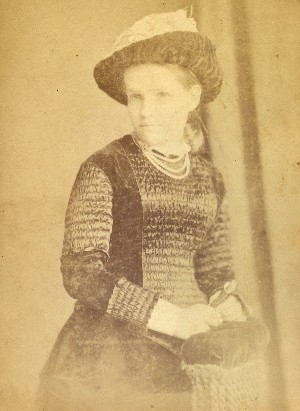 Christina Esther (known as Nellie) went on to marry
Henry Coghlan
in 1885.
In 1856 (shhhh!) Fanny Caroline (d1884) was born in Trichinopoly. In 1861, a son Richard Warwick was born in Bangalore. Also in Bangalore, Maude Caroline was born in 1862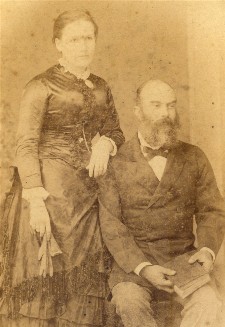 and married Edward Sutton in 1879 at San Thome, Madras. Photographs taken in 1887 used with courtesy of Don Sutton.

In 1864 Minnie Alberta was born in Ootacamund. Also in Ooty, a son Warwick Dashwood (Jnr) was born in 1867 (d1867).

Warwick Dashwood Snr had several siblings.i.e. children of John and Christina S J: Henry Augustus (1822-1823), John Edward (1823-1825), Frances Christina (Fanny) (b10 May 1827), John (b 01 November 1828; d 1859), Adelaide (b 26 June 1830), George Bartlett b 1832 (shown as Buckett in one Census!), Esther b 1834 and Charles Alexander b 1837.

Warwick's mother Christina Susanna Jacoba was born in Berbice (part of modern day Guyana). Christina S J's parents were Jan Jacob de Meij of Dutch origin (known as John James de Mey when in England) and Henriette Buse. Christina had 1 step brother and 2 step sisters. Henriette Buse (Christina S J's mother) had a son Hendrik Alexander Krieger from a previous marriage. After his marriage ended with Henriette, JJ de Mey (Christina S J's father - d1819) married for a second time in Exeter in 1811 to Frances Bartlett (Fanny) Bussell (b 1785 Exeter d 1816-1819 Berbice). Together they had two daughters Emma Bussell de Mey (b1814) and Frances Delia de Mey (b 1816 - d 1902 Barnstaple) both born in Berbice,.

JJ de Mey owned a plantation called Kortberaad in Berbice. Kortberaad previously belonged to the heirs of Hendrik Janse Buse, presumably Henriette's father. Hendrik Janse Buse not only owned a number of plantations but also administered many more for other owners. For a short period, because of the absence of a Governor, he with two others were in charge of Berbice. JJ de Mey died in 1819 and the plantations were put up for sale and all the three de Mey children came to live in England. The bottom of this page has more information on the plantations.

Christina Susanna Jacoba de Mey and John Bussell were married on two occassions, both by licence. On 19th January 1822 they married in St Mary Steps by John's cousin the Rev. Edward Bartlett (at the time Bartlett was a curate at another church). The witnesses were John's sister Esther and Rev. Bartlett himself. On 15th June 1822, again at St Mary Steps they married. This time the minister was Rev. William Carwithen, the Rector of St Mary Steps and the witnesses were John's sister Harriet (Barrington) and R Mayne (a servant/apprentice). We can only speculate why there were two marriages.

ONE THEORY: Based on the premise that CSJ was not 21 at date of 1st wedding. CSJ became pregnant pre Jan 1822. In order for the child Henry Augustus (christened Sep 1822) not to be born out of wedlock, JB (who was a solicitor) went through a wedding ceremony with cousin Rev. Edward Bartlett (parachuted in from St. Paul's Exeter, where he was Curate), officiating knowing (maybe only JB and CSJ knew) that CSJ was under 21 (me guessing!). The news of the wedding was published in the newspapers to protect the social situation of forthcoming birth. As soon as CSJ became 21 they married again to make everything official and legal. It could just be that CSJ made a genuine mistake regarding her date of birth and when the certificate finally arrived from Berbice the error was recognised and a second wedding arranged.

Other scenarios could be that there was something invalid about the first licence, the minister, the ceremony or the procedure.
John was 20 years older than Christina S J who was just 21. John was the brother of Frances Bartlett Bussell who was married to Christina S J's father JJ de Mey. Complicated. So Christina S J's step mother-in-law was also her sister-in-law although Frances Bartlett had died sometime before 1820, prior to Christina's marriage in 1822. John Bussell was an attorney and they owned and lived in a wonderful house called Honeylands in Whipton.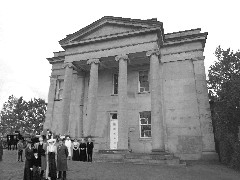 Honeylands imagined. Photograph Peter Selley. Modified by Walford Pears.
Honeylands, originally built about 1711 existed in the Bartlett family (John Bussell's mother's side) from 1756 as a normal house; John Bussell turned it into an impressive and imposing mansion. Built of Bath stone a tithe map of 1844 shows the house as having three reception rooms, six bedrooms, two servants rooms, stables, a coach house, laundry, farm buildings, and 47 acres. In addition, there were pastures, orchards and three other houses on the estate. The hunt would meet on its lawns. John Bussell once offered to donate a piece of his land for a chapel to be built for Whipton; the local church, Heavitree Parish Church was overflowing. The house still exists (2013) and had been used until recently by Exeter NHS as a child centre. It is likely to be sold for 'other purposes' in the near future. John Bussell had his offices in Northernhay Lodge in the centre of Exeter and in 1850 on Bedford Street.
Warwick's father's parents were John Bussell (one time Alderman & Mayor of Exeter (1782)) and Mary Bartlett of Alphington, Exeter and his mother's parents were John James de Mey and Henriette Buse of Berbice. Mary Bartlett's father and grandfather were both called Edward Bartlett and both were wealthy sergemakers near Exeter. She also had a brother called Edward Bartlett. The Bartletts owned and lived in Honeylands prior to John Bussell jnr. The siblings of Warwick's father John were Mary, Elizabeth, Harriet and Frances Bussell.
In 1780 Edward Bartlett the elder gave £10 to be invested. The interest was to be divided between 10 poor people of the parish of St Johns on New Years day forever! In 1790 his son Edward contributed a further £20 to the fund.
In Exeter in 1841, Emma Bussell de Mey married William Warren esq. a surgeon, in Bow near Crediton, Devon. The parish church of Bow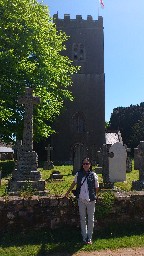 has a handsome window in memory of Emma Bussell Warren (d1856) and seven of her children.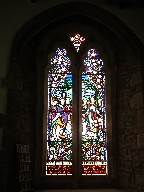 One of Emma's grandchildren was Rev. Hubert Ernest de Mey Warren born in Australia. In 1921 he started the C.M.S. mission at the Emerald River on Groote Eylandt to house and train children of mixed descent from camps and towns in eastern areas of the Northern Territory. He also established contact with the local Aborigines. He perished in 1934 aboard the aircraft 'Miss Hobart' which disappeared over Bass Strait. One of Rev. Warren's sons was David Ronald de Mey Warren, an Australian scientist, best known for inventing and developing the flight data recorder and cockpit voice recorder also known as 'black boxes'.
In 1850 John Bussell may have burnt his fingers with property speculation and was nearly ruined. Honeylands came under several ownerships from the early 1850s. By 1851 the family seem to have dispersed. Christina (Warwick's mother) is still living in Whipton (but not Honeylands), Exeter with 18 year old son George at no 57 ??. Frances Christina has married Samuel Norrish (b 1813, Zeal, Monachorum, Devon), a farmer farming 250 acres employing 6 labourers in Colebrooke, near Crediton, Devon. They were married by Rev. Edward Bartlett, the bride's cousin on 17th May 1849 at Heavitree church.
Notice
Norrish
, Samuel, eld. s. of late John Norrish, of
Fuidge
, and grands. of late Samuel Norrish, of Horwell (d. 1840); b. 1813, m. 1849, Frances Christina, dau. of John Bussell of Exeter; lord of the manor of Horwell : Horwell Manor, Colebrooke, Exeter; Fuidge House, Spreyton, Okehampton
See futher information on Fuidge and Spreyton at bottom of page.
Adelaide (Frances' sister) aged 21 is staying with them. Esther now aged 17, is living as a visitor with her step-aunt Emma Bussell who is married to William Robert Warren (b ~ 1816 Ottery St Mary) William Warren is a surgeon and they all live at Winsor House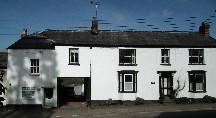 in the village of Bow. They have 3 servants living with them. .
Plaque from Bow Parish church: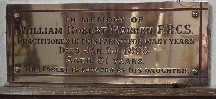 in memory of William Robert Warren.
Charles now aged 14 is staying as a visitor with a Bidder family at 65 Court Road. Bidder is a builder in Moretonhampstead
In 1852 Adelaide married Rev. John Henry Coke (Rector of Ropsley) on 7th August at the District Church at Newport, in the parish of Bishopstawton, by the * Rev. Edward Bartlett, Adelaide's cousin. Prior to her marriage, following a failed relationship with a surgeon, Adelaide became engaged to a solicitor named Dennis who had only known her for 18 days. When he broke off the engagement she sued for 'Breach of Promise' and was awarded £800 damages. Frances Delia De Mey, her cousin and her aunt Harriet Law were witnesses.Mr. Dennis' mother and friends objected to the marriage because of Adelaide's father, John Bussell's financial affairs and that her brother Warwick Dashwood, had enlisted in the East India Company's service.
Click on link to read a newspaper report of 1851 about the 'Breach of Promise' case.
Adelaide and Rev. Coke had 3 girls and 3 boys one of whom was Charles Henry b 1854.Charles Henry joined the Royal Navy and reached the rank of Admiral. In 1907 he was made Naval Aide-de-Camp to King George V and was knighted by the King in 1911. While Vice Admiral commanding the coast of Ireland he was closely involved with diversion directions and later rescue operations concerning the sinking of the Lusitania (a passenger ship) torpedoed by the Germans in 1915.
He retired in 1917. A portrait of Sir Charles Henry Coke K.C.V.O. hangs in the National Portrait Gallery in London and a number of different portraits can be seen here.
In 1858, John Bussell died aged 76 in Whipton. Christina was known to be living in Whipton in 1851 so perhaps they were together then. Their son John also dies in 1859 aged 30.
In 1861, Christina is living as a guest in the house of a George and Ann Herbert who are fishmongers at 4, Clifton Road, St Sidwells, Exeter. It is recorded that she is supported by her daughter (Frances , Esther or Adelaide? we do not know). Frances Christina is still the wife of farmer Samuel Norrish in Colebrooke. Charles has disappeared. (at least as far as the Internet is concerned) and Esther has also disappeared (temporarily).
Warwick Dashwood Bussell died in January 1867, just 15 months after leaving the service of the 3rd Madras Light Cavalry and 2 months before his son Warwick Dashwood was born. Sadly Warwick Dashwood jnr died as a baby at just 3 weeks.
In 1871, Christina has a house at 20, Regent St. East Teignmouth, Devon with daughter Esther and Helene Eagon as lodger. Frances (Norrish) is still a farmer's wife living with a housemaid and a few servants at Horwell House (the house still exists as Horwell Barton), Colebrooke, Devon.
In 1881, Christina aged 80 is living in a house on the High St. Topsham, Devon with her still unmarried daughter Esther now aged 46 and step sister Frances Delia de Mey. All have private incomes (annuitants). [Family history film 1341516, Public Rec Off RG11, Piece/Folio 2142/95, Page 5].
Christina died on 22nd March 1883 at Topsham. Esther at some later time moved in with sister Frances Norrish who became widowed in 1888.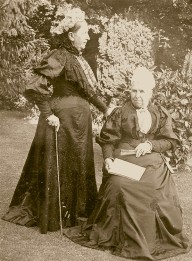 Frances (Fanny) and Esther.
In 1885, in Coonoor India, Christina Esther daughter of Warwick Dashwood and Caroline Adelaide marries Henry Coghlan a railway engineer.
In 1891, Frances as a widow is still living at Horwell House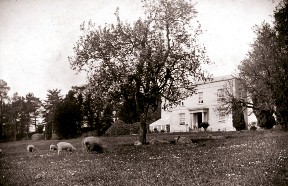 with sister Esther, both on independent means. She has a coachman/groom (John Lee - 30), cook (Emily Lee - 29) and Ellie Langdon (Housemaid - 18 from Tilbury Essex!). Frances Delia de Mey is living at 11 Barbican Ter. Barnstaple on independent means.
In 1892 John Edward Bussell married Ellen O'Hearne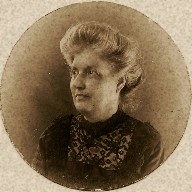 in Pudupet, Madras. In 1893 they had a son Edward Warwick . Photographs of John Edward Bussell, Frances Norrish & Esther Bussell, Horwell House, Stained Glass Window and Elen O'Hearne kindly provided by Teresa Brown.
Caroline Adelaide wife of Warwick Dashwood died in the Madras General Hospital in 1895 where their son John Edward had been head steward. Sadly John Edward pre-deceased her by 3 months.
In 1901 Frances is still going strong. Still living at Horwell House with sister Esther, still on independent means. New
staff though.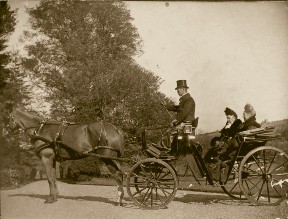 Coachman is Alfred Leaman (29), cook is Rose Leaman (23) and housemaid is Florence Elstone (17)
St Andrews Church, Colebrooke (2012)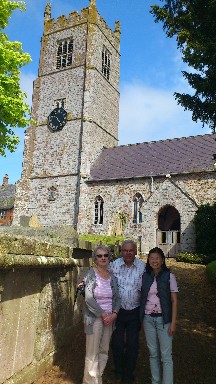 has a
beautiful stained glass window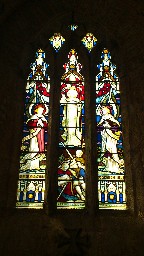 in the South Wall depicting "The Resurrection". This was a gift from Frances Norrish of Horwell in memory of her husband Samuel
who died in 1888. Frances also presented a modern pulpit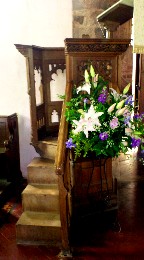 to the church in 1903.
Frances Christina died in 1912. Below is a report of her death:
COLEBROOKE One the oldest inhabitants of Colebrooke, and probably one the best beloved, has passed away, in the person of Mrs. Norrish., Horwell House- Her death has created gloom throughout the parish, and the vacant place will be hard to fill. Ever a true friend she used her kind support on behalf of every worthy object. Her frequent treats to the schoolchildren were always enjoyed and warmly appreciated.
Frances Christina is buried in the Church of St Michael, Spreyton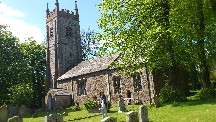 together with many other Norrishes who have a Chest Tomb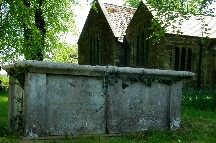 . It is now a Grade II listed building.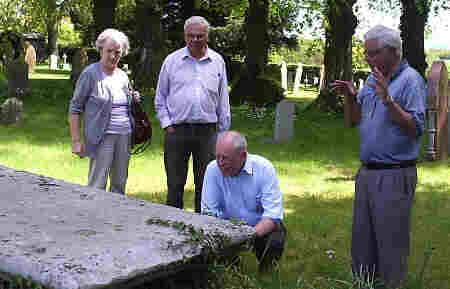 visited in 2012
And here is another report:
THE LATE MRS. NORRISH
OF COLEBROOKE.

FUNERAL AT SPREYTON
The funeral of Mrs. Norrish took place the day before yesterday amid widespread tokens of sincere sorrow and regret. The schoolchildren marshalled by Mr. and Mrs. Mabley, went to the house in procession. As they entered the drive the following hymns were impressively and reverently sung ---" I heard the voice of Jesus say." "Days and moments quickly flying." and " Rock of Ages." Mr. and Mrs. Mabley deposited a magnificent wreath on the coffin, which was resting in the entrance hall. It bore the inscription ---"With deep regret and in loving memory of dear Mrs. Norrish, From Mr. and Mrs. Mabley and the scholars of Colebrooke school. Beautiful floral tributes were sent by Miss Bussell (sister), Admiral Sir Charles, Lady, Mrs. and Mr. Tom Coke, the Rev. Sidney Coke, Major Coke, Mrs. Telfer-Smoilett and Mrs Ferguson, Mrs. Knox, Mrs. Haycroft, Miss Bush, Col. and Mrs. Ramsay, the servants of Horwell, Mr., Mrs. and Miss Sinclair-Smith, Mrs. Pope, Mrs. Brooks, and all at Betsford. As the coffin was borne to the hearse by Messrs. Webber, A. Stoneman, F.R. Stoneman, Warren Hattin, G. Salter, J. R. Vile, and Northmere (coachman to Mrs. Norrish), the children sang "For ever with the Lord." The procession then left for Spreyton, where the internment took place. The chief mourners were Admiral Sir Charles and Lady Coke, the Rev. Sidney Coke, Major Coke, Dr. Perkins, Mr. and Mrs. J. M. Pope and the servants. Miss Bussell was unable to attend on account of illness. The service at Spreyton was conducted by the Rev. W. H. Crosse Crosse (Rector of Bow). The congregation included Dr. Davy, Mrs. Carter-Pedlar, Dr. Haycroft, Miss Battishill, Messrs. W. G. Lee, J. Brook, and Sidney Pope. The coffin was of polished oak with brass fittings. The breastplate was inscribed ----"Frances Christina Norrish, aged 84 years: 12th January 1912." the grave ---- that of her husband --- was beautifully lined with roses and chrysanthemums. The Colebrooke ringers rang a muffled peal at Spreyton. The bearers rode from Horwell House to Spreyton on horseback, preceding the hearse.
The Norrish estates were inherited by Mrs. J M Pope of Spence Combe, a niece of Samuel Norrish.
---------------------
In 1916, Esther died aged 82 in the Crediton district of Devon.
---------------------
Now going back a bit - the earlier Bussells and Bartletts
The father of Warwick Dashwood Bussell was John Bussell who was married to Christina Susanna Jacoba de Mey. We'll call him John Bussell the Attorney to not confuse him with his father who was also called John Bussell, a Grocer.
John Bussell the Grocer (b ~ 1750)
John Bussell the Grocer was also quite well off. John Bussell the Grocer died in 1789. In his will of 1785 and proved in 1789 he said this about his son John Bussell the Attorney "I give unto my son John Bussell my large Silver Bowl my best Diamond Ring Gold Watch and four large silver Candlesticks and my two large Silver Sauce Boats and all my family pictures as a token of my affectionate love for him and I do declare that the reason for which I have made no further provision for my said son is that he will be amply provided for under the will of my said father". His father was John Bussell who was mayor of Exeter in 1762 and 1765. We know from his will that his grandparents were Thomas and Hester Bussell and his great grandmother was Hester Bussell. John Bussell the Grocer had two sisters. Margaret (Hickson) and Elizabeth (Richards). Elizabeth was under 21 at the time of her marriage so her brother John and James Richards (from Plympton St Mary) each stood surety of £200 towards the marriage bond for a licence. John Bussell himself, three weeks later, married Mary Bartlett on 25th Jul 1773. Mary was also under 21 so a further £200 each was 'bonded' by John Bussell and Edward Bartlett (Mary's father) who was a Cheesemonger at the time. Their children were Mary b1774, Elizabeth b1776, John the Attorney 1782 - 1858, Harriet 1784-1862 (m 1 Barrington; 2 Law), Frances B 1785 - 1817 (m JJ de Mey) and Esther 1788-1839. John the Grocer was Sherriff of Exeter in 1780 and Mayor of Exeter in 1782. He had two close friends that were mentioned in his will. They were Jonathan Burnett and William Bate. Burnett was a wealthy plumber and Mayor in 1786. He financed the Mayor's entertainment from his own pocket. William Bate was a Haberdasher of small Wares. and served as Sherriff and Mayor of Exeter in 1787. In his will John Bussell the Grocer left several properties to his wife and children. These included properities in and around Exeter; Friernhay Lane, Fore Street (Tenement Courtlage And Outhouses), College Kitchen, Higher Broomhams, Reynolds Estate and properties on the Estate of Alphington Manor and Black Loaf! which included commons, meadows and pastures. John Bussell the Grocer also held all the Tythes of the Barton of Polesloe in the parish of Heavitree.
John Bussell the Merchant (b 1705)
was left the bulk of the estate of his father Thomas

The grandfather of John Bussel the Grocer was Thomas Bussell a merchant. He also owned land and houses in Exeter and signed the oath of 1723. The Oath was part of an Act that required 'every Person and Persons' to swear loyalty oaths to King George I by 25 December 1723. Those who refused to take the oaths were to register their estates by 25 March 1724. Individuals who refused to either swear their allegiance or register their property risked forfeiting their estates. The oaths administered were those of allegiance, supremacy and abjuration. In addition to his son John he had two daughters. Mary married Samuel Hobb and Elizabeth who married Matthew Stehelin. In his will of 1728 amongst other legacies he left £10 which gave an annuity of 20 shillings, "yearly forever to be laid out in six shifts, annualy, to be given to six poor men, inhabitants of the said Parish (St Sidwells) on St Stephen's Day." (When Daniel Defoe visited Exeter, in 1723, it had the largest serge market in England, next to Leeds).
GEORGE (b 1634) & HESTER BUSSELL
Thomas Bussell's parents were George Bussell (b ~ 1634; will made 1689 - d1692) a Serge Weaver and Hester (Penny) who married on 17th Nov 1655 at the Cathedral of St Peter, Exeter. Together they had at least 10 children. In addition to Thomas there was George, Robert, Judith (m Sanders), James, Nathaniel, John, Hester (m Langworthy), Philip, Mary (m Antrabus) and ??? (m Matthews). She made a will as a widow. She left varying amounts of money (£50 to £300) to each of her children and her house to James. Her estate was known as St Nicholas's (Nicholas Lane, Exeter). She bequeathed £20
which gave 'an annuity of 20 shillings, yearly forever to be laid out in six shifts which said shifts were to be annualy given on the Sunday after Christmas day to six poor women of this parish (St Sidwells), who did not receive Parochial relief.' The will was made in the thirteenth year of the reign of William III which puts the will around 1702. She left varying amounts between £10 and £50 to grandchildren with a bonus of £10 if they "shall be brought up according to the Communion of the Church of England then I give ten pounds apiece more to each of them to be paid in manner aforesaid and not otherwise."
The grandchildren named in the will are (Parent name first); remember not all would be listed; some may have died before and some may have been born after the making of the will. : [George: George & Hester]; [Robert: Humphrey]; [James: Mary, Hester, Ann]; [Philip: George]; [Judith Sanders: Robert & David]; [Thomas: Thomas & Elizabeth]; [?Mary Antrobus: Poppalina] Poppalina married Joseph Long in 1710 at St David, Exeter and [?Mary? Matthews: Nathaniel].
Other names from the will are: Agnes Filimore (sister); George Filimore (nephew); Hester Penny; Judith Penny; Patience ???; Roger Coffe; William Coffe; John Coffe; Thomas Bland (servant); Jonathan Salter (witness); Nathaniel Salter(witness) ; Thomas Lowman or Looman.
She left £100 towards her own funeral charges.
The parish church of St Sidwells was bombed by the Germans in 1942. Click here to for St Sidwells church
Mary Bartlett's (wife of John Bussell the Grocer) father and grandfather were weavers/sergemakers and served as Masters of the Gild of Weavers Tuckers and Shearmen of Exeter in 1775 and 1765 respectively and lived in Honeylands prior to John Bussell.
Mayor, Sheriff, Bailiff, Alderman of Exeter. These various positions were held by s Bussells and Bartletts as follows: 1713 Nathaniel Bussell; 1716 Philip Bussell (Both brothers of Thomas Bussell); 1761, 1765, 1776, 1779, 1782 John Bussell; 1780 Edward Bartlett Snr; 1786 Edward Bartlett Jnr.

Devonshire Dialect and words. "Leary: Mrs. Norrish, a farmer's wife, a native of Colebrook, aged about 55, said to me yesterday, "Now do take something to eat. When you get over-leary, you don't enjoy your food". Rev. 0. J. Reichel, Lympstone
One final titbit. A bookcase (George IV mahogany) belonging to John Bussell circa 1825 was sold in June 2011 at Christie's, the London auction house for £32450.
Click here to learn more about Exeter of old:
----------BUSE and de MEY---------
Buse and de Mey were plantation owners in Berbice and consequently owned slaves. Over the years several plantation owners were named for cruelty and mistreatment of slaves. Buse and de Mey did not appear on any of those lists. Thankfully those days of how plantations were worked have ended.
-------------NOTICE-----------
Run away on Monday, the 6th instant, from the Plantation Korte Beraad, Berbice, a House Negro, named Peter, of the Mamonie nation. He is short and thick, a little pitted with the small pox, speaks Berbice Creole, Surinam, and bad English and is a good hair dresser. When he absented himself, he had on a grey jacket, with yellow buttons. He has been since seen at Mahaica, Whoever will give any information concerning him, that may lead to his apprehension, shall be handsomely rewarded. It is requested that nobody will employ or harbour the said Negro, and that no Captain will attempt to take him out of the Country. If any person or persons should be found doing so, after this public notice, the law will be put in force against him or them with the utmost rigour.
Berbice, Jan. 14, 1806. J. J. de Mey.
N.B. Should the above Negro be apprehended near this Settlement, the offered reward will be paid to whoever will bring him to the Office of this Paper.
Demerary, Jan. 25, 1806.
----------------------------------------------------
On the death of JJ de Mey the following notice of sale was published.
COFFEE ESTATE FOR SALE.
BY virtue of two several appointments of the Honourable the Court of Civil Justice of the Colony of Berbice, and its dependencies, &c. &c. bearing date the 18th and 20th of August 1819, on the matter of certain petition presented to the Honourable the Court aforesaid, by Charles Kyte, Trustee of Plantation Kortberaad, the property of the late J. J. De Mey, Esq. of the Colony, deceased, the minors H. A. Krieger and C. S. J. De Mey, children of his former wife, Henrietta Buse, and the minors E. B. De Mey and F. D. De Mey, children by his late wife, Frances Bartlett Bussell.
The undersigned, Trustee aforesaid, will sell at public vendue, on Friday the 19th day of February 1820, on the premises, the aforesaid, Coffee Plantation Kortberaad, cum annexis, together with the slaves thereunto attached, containing 1,900 acres more or less; the cultivation consists of 80000 bearing coffee trees, and 50 acres in plantains and ground provisions, the remainder uncultivated, being most excellent land for either coffee, canes, or provisions.
This plantation is most eligibly situated on the east bank of the River Berbice, between the Sugar Plantation, Enfield, and Coffee Plantation, Deutichen, about seven miles distant from New Amsterdam, to which there is excellent road the whole way , with the advantage of water carriage, for the produce and stores, and is in every respect well adapted for the cultivation of canes, and worth the attention of gentlemen speculating, who have the means of extending the cultivation either as a coffee or sugar estate.
The buildings consist of a large coffee logie, built of the best materials, 120 feet long, 28' broad, with 12 feet galleries on each side, a mill-house, washing cistern, tiled drogeries, for drying and other apparatus for the manufacture of coffee, with hospital, negroe-houses, &c &c.
The logie, mill-house, &c might at a small expence be converted into buildings for the manufacture of sugar. The negroes are 126 in number, viz' 53 men, 29 women, 23 boys, 21 girls, and are an improving gang.
Terms of payment as follow, in three equal instalments of 12, 18 and 24 months from the day of sale, with interest, at the rate of 6 per cent. Per annum on the capital due at the payment of each instalment.
Further particulars may be known on application to the subscriber. CHARLES KYTE New Amsterdam, Berbice, October 2, 1819
--------------------------------------------------------------
Berbice. 1806/1807
Public Vendue. - On Monday the 6th of March ensuing, and following days, will be sold to the highest bidders, by order of the Executors of the late Mrs. H. J. Buse - the Coffee Plantations Lust tot Rust and Providence, in the River Berbice; and the Cotton Plantation Zee Zigt, or No. 2, on the West Sea Coast of Berbice; together with about Six Hundred Slaves, Cattle, Furniture, and what further may appear.
For terms of sale, and other particulars, application to be made to A. A. de la Court, Esqr. New-Amsterdam, or to
D. C. Cameron, D.V.M.
N.B. - The sale will take place on the respective Estates, and commence at 11 o'clock precisely.
Plantations owned by heirs of Hendrik Janse Buse were Kortberaad (127 slaves), Duitichem and Christina's Lust (4 slaves). Buse's Lust(121 slaves), and Onnverwaght (53 slaves) were owned by Lodewijk Hogendirk Buse. Hendrik Janse Buse also administered numerous other plantations and was one of three councellors that ran the colony for a short period when there was no Governor..

Most of the plantations still exist today with the same names. You may view all plantations from here:
http://travelingluck.com/South+America/Guyana/East+Berbice-Corentyne/_3377774_Kortberaad.html#local_map
See Berbice slave revolt (prior to Buse and de Mey):
-------------------
Notice of Abscondee - Berbice? No, in Exeter Devon!
Thursday, October 18, 1810; Issue 2350 - Gale Document Number Y3200651597
Absconded, on Saturday last, from Mr Bussell, of this city, attorney at law, George Shepherd, his parish apprentice. He is nearly 17 years of age, and about 5 feet 7 inches high, is stout grown, has brown hair, dark eyes, and a good colour in his face. He wore away a new light-coloured jacket and waistcoat, and dark corduroy breeches. Whoever harbours or employs the said apprentice after this notice, will be prosecuted; but whoever will apprehend him and bring him to his said master, shall receive Five Guineas reward.
Exeter, Oct. 16, 1810.

---------


George Sheppard, 8½, apprenticed to John Bussell of Exeter, gent., for the sheaf of Polesloe 3004A/PO 193/3/8 1803

--------------


Fuidge House and Spreyton in 1850: Spreyton is a village with several neat Houses, on a lofty eminence, about 8 miles E. by N. of Okehampton, and 17 miles W. by N. of Exeter. Its parish contains 3600 acres of land, and 404 inhabitants. The manor was held, for a long period, by the Talbots, whose heiress carried it in marriage to the Kelly family in the reign of Henry VI. It was sold to various freeholders during the last century, and now belongs to Messrs. W.H. Battishull, W.C. Cann, G.L. Gowin, Jno. Norris, Geo. Cann, the Rev. G. Hole, the Rev. R. Holland, and a few smaller owners. Fuidge House, the seat of J. Norris, Esq., is a neat cemented structure, and is pleasantly situated.

----------------


It is from this tiny village (Spreyton) that Uncle Tom Cobley, and friends, travelled to the famous Widecombe Fair, which lies about 15 miles due south, on an 18th century lad's day out. The story and verses. The song.

------------------


Connection with Uncle Tom Cobley (Spreyton claims Uncle Tom Cobley...True or not?!)
The notice below is the report of the funeral of Uncle Tom Cobley's nephew.
Attending it were Mrs. Norrish (Frances Christina, who is buried in the same churchyard ) and Miss Bussell (Horwell)...(Esther).

[March 1901] UNCLE TOM COBLEY'S NEPHEW. Mr. Richard Bartlett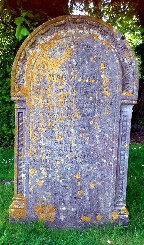 , of Butsford and Bowbeer, died near Coplestone at the age of 87, and the interment took place last week in the family ground , where lies "Uncle Tom" Cobley,
in the parish churchyard at Spreyton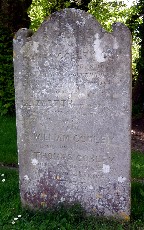 . In his younger days Mr. Bartlett was chosen by his uncle, the old Devonshire worthy of hunting fame, as his right hand and confidential chief in business and private matters, and was duly awarded for his integrity and indomitable perseverance with a large portion of the old squire's worldly poeeessioss. For upwards of 60 years Mr. Bartlett was a successful agriculturist. He also took a keen interest in parochial and district matters. Like his uncle, hs took his recreation in the saddle, and his figure was familiar at most of the principal meets. For several years he had enjoyed a retired life at Butsford, where he entertained his many friends. He leaves an only daughter. The funeral was attended by Mr. and Mrs. James Brooke (son-in-law and daughter) and family, Mr. and Miss Willcocks (Colebrook), Mrs. and Miss Webber and Mrs. Baker (Chawleigh), Messrs. J. Webber, E. Webber, T. Baker (Chawleigh), Bartlett (Kingsnympton), S Webber (Tiverton). Bartlett (Taunton), J. Elworthy, T. Elworthy, and Webber (Chulmleigh), S. Reach (Exeter), R. Roach (Crediton), E. Wilcocks (Launceston), Gorwyn, Lambert, and W. Lee (Colebrook), Shapland (Southmolton), Mrs. Norrish and Miss Bussell (Horwell), Messrs. W. Coryton (Pentille), Lake (London), Edwards, May, Cann, Palmer, Pearce, and Gay. The coffin was borne to the grave by deceased's servants.

----------------------


If anyone has anything to add to any of the above, I'd love to know. Please contact me.

or leave a note in the Guest Book. Thanks
====================
List of slaves owned by JJ de Mey
estate in 1822

[Born 1765 Nason][B 1766: Maja, Moerisa, Regina, Diema, Matakka, Emelion, Mary Anne, Peggy, Alexander, Allan, Joe, Martyn, Arabella] [b1771 Bakker] [b1773 Schie] [b1776 Jebo, Kimma] [b 1778 Caspar, Floris, Harlegwin, Lott] [b1779 Joe] [b1780 Samons][b1781 Dido, Capita, Ben, Casper, Claudius, Edward, Hammander, Jan [b1782 Lott, Grube,Noydag][b1783 Adelina, Gratia, Coenraad, Fortuyn, Sammo][b1784 Sara, Dobson, Adam, Florence][b1785 Alletta, Godwin, Cumba, Gembe, Julia, Sybella, AAron, Adolph, Boras, Estere][b1786 Hubert, May, Esop, Quaco, Elsje][b1787 Dobson, Mary, Sally, Kinton][b1788 Agnes, Bob, Caleb, Herbert, Jonathan][b1789 Adjuba, Avance, Lisette, Nancy, Sasette, Moelle, Nimma][b1790 Auselme][b1791 Fanny, Polly, Hubert, Jacob, William](b 1792 Peppe][b1793 Gabriel, Harry, Leonard][b1794 Telemachaus][b1795 Pope][b 1796 Harry, Sarah][b1797 Jacob][b1800 Judy, Lisart][b1804 Lubin][b1806 Donderay][b1807 Manerva][b1808 George, La Rose][b1809 Julius, Janbant][b1810 Prions, Ruttardson][b1811 Angeluck, Hendrick, Secunds][b1812 Kaetije, Wilhelmina, Stapel][b1814 Albert][b1815 Aertje, Jeanetta, Louis][b1816 Adriantje, Henrietta, Adonis, Scipis][b1817 Jacoba, Sophia, Theresia][b1818 Berima, Saartje, Savina][b1818 Porteman][b1819 Allegos, Pharao][b1820 Dorothea, Jacobina, Susanna, Anverwagt, Ender][b1821 Anna, Dido, Fatima, Klaartje, Phillipina, Lodiwick, Lodowick][b1822 Briton, Jerome, Peter]