Some images of South India
Take a virtual tour of temples, churches, waterfalls, beauty spots, nature reserves
| | | |
| --- | --- | --- |
| Land of 1000 temples | More Temples - Madura | Khatakhali Dancers |
| Railway sidings Villupuram | Typical Railway colony House | Christ the King Church Villupuram |
| | | |
| --- | --- | --- |
| Cycle Rickshaw and Jutcar | Roadside Hindu Shrine | Roadside Coconut milk |
| The Maidan | Dhobis | Vegetable Seller |
| Kovalam Beach | Mahabalipuram | |
| Nilgiri Railway | The Nilgiris | Vailankani |

Rev. Fr. T.A.Fleming, s.j. (Principal: Jan. 1938 - Dec. 1942 & Nov. 1948 - June 1954)

Campion Old Boys - London 1963ish...click here for larger (220kb) picture
Sitting--- Jackie Cooper; Lancy Shafton; Malcom /Robert Lee;
Lionel Roberts; Fr. Merrifield; Eveln Cotter; Cliffy Jacobs; Melly Noronha;
?????????; Leslie Cotter; Antoine D'Cruz.

Second Row left to right--- Gerry Micetich; Dougie Desmier; Melcome Desmier;
???????; ??????; Gladwin Dennis; Oscar Rodrigues; ??????; BillyRodrigues; Popsy ( Joseph) D'cruz.

Top Row left to right----- Duncan Pears; Hillary D'cruz; Milton Pears;Stenny Pears; Eugene Desmier;
Robbie Desmier; Vincent Fernandez; ????? Gomes; Bazil D'cruz; Wally Pears; Ivan Jacob.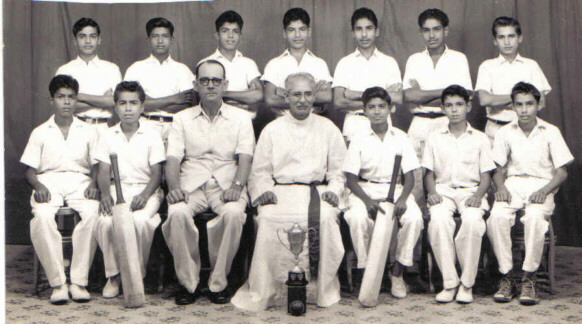 http://en.wikipedia.org/wiki/Campion_High_School_(Tiruchirappalli)
Winners: Trichy District Schools Championship - 1958
Standing: Amarnath Banerjee; Bobby Johnson; Mel De Rosario; Patrick Fernandez; Conrad Walker; P.C. Ramachandran; Jude McCue
Sitting: Herbert Netto; Michael Johnson(Dom); Mr Tomlinson; Fr Masters; Michael Gomes; Wally Pears; Claver Walker

Home Page