Wilfred(Sonny)1882, Maud (b 1885), Ada (b 1887),George Harold (b 1890), Ethel Mary (1892 - Trichy), Caroline Marie (b 1894 Trichy), Charles Dunstan (b 1897), Joseline Marie (b1898), William Frederick (b 1900 Villupuram), Kathlein (1902 - 1905) and Baby (1904-1904)
We know little about William. Burma first then Australia?????.
---
George H Pears (married 11 Apr 1917 Rangoon) ANNIE LOUISE BOND (daughter of William Lewis and Amelia Ann Bond) George was a Customs Officer in Rangoon in the 1920s/30s.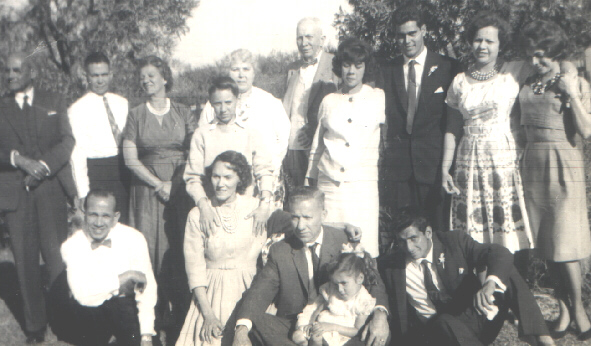 Many thanks to Pauline McGregor Currien for identifying Annie Bond, Norma Rencontre and Barbara Godber and to Alan Goodchild for identifying everyone.
Standing: Mr Guest; Fred Pears; Mrs Guest; Gordon Pears; Annie (Bond) Pears; George Pears; Sheila Dragwidge; Peter Dragwidge; Norma (Recontre) Pears; Camille Recontre
Sitting: Charles Pears; Barbara (Godber) Pears; Dick Pears; Alison Pears; Bobby Ran Ross
-----------------
George's other children are George and Hilary .

---
Charles Pears (b 1897) married Beryl Vivien Colquhoun (b 1898 Cuddalore; Christened in Villupuram) Daughter of Adam Bittleston Colquhoun and Fanny Isabel of Cuddalore ) on 26 Apr 1919 @ Vepery, Madras
(Children : 1. Dunstan . 2.Bruce. 3. Thelma)
Dunstan was also known as Bruce (small mix up with suit cases whem in RIAF). Click for another picture
Bruce played hockey for Canada in th 60s. Click for picture.
---
Caroline Marie (Pears) b 1894

married on 8 Jan 1913 Villupuram

William George Oliver (b 1867 - Widowed - Son of George Oliver)

Children: Herbert; Caroline; Mary
---
Maud Elizabeth (Pears) b 1885
married on 16 Apr 1902 Villupuram
Rupert Dodson b 1873 (son of James Dodson)
Children: Cecil; Fred; Phylis & Gwen(twins)